Making a Master Suite: Tips On Getting it Right
With all due respect to Benjamin Franklin, those of us who are lucky enough to own a home on Cape Cod would probably rework his oft-misquoted quote. On the Cape, especially in the summer months…
"Nothing is certain except overnight guests and a loss of privacy."  
If you've begun to feel like there is such a thing as too much togetherness, it's time to start thinking about creating a master suite.

Making the Case for Making a Master Suite
For many people, the privacy factor alone is reason enough to invest in a new master suite. 'Nuf said.
According to a story on Houzz, the ROI on adding a master suite is right up there with kitchen and bath remodeling.
With many second homeowners on the Cape looking ahead to moving here full time upon retirement, a first-floor master suite will greatly facilitate aging in place.

Location, Location, Location
With privacy so often the driving force in deciding to create a master suite, we always look for space that's removed from other bedrooms and primary living areas when including a master suite when designing a home.
Even if  a client has no intention of retiring to the Cape, we will often suggest a first-floor master suite. Because we have such a high percentage of retirees here, having a first-floor master adds appeal for prospective home buyers, and can significantly increase value.
For clients with young children, who want their bedroom to be on same level as their kids', we may recommend two master suites: one on both the first and second story. There's the potential for added resale value, and overnight guests will enjoy the first-floor master.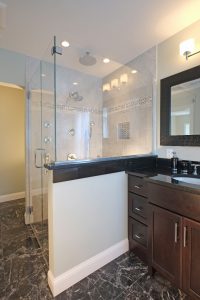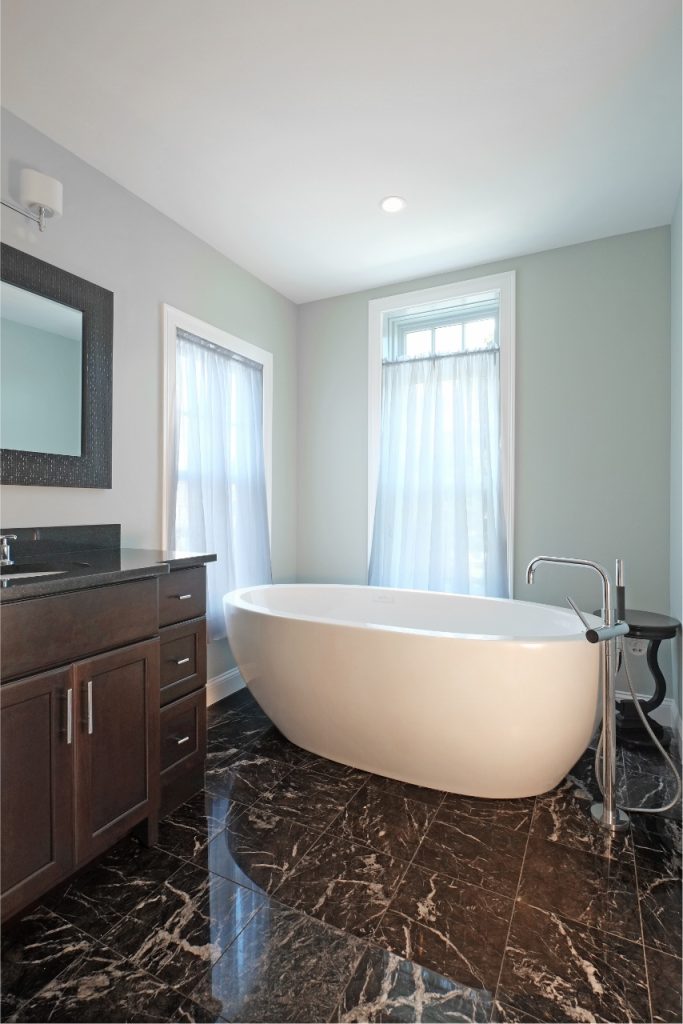 The Basics: A Private Bath
It is an en-suite bath that turns a bedroom into a suite. When adding a private bath to a bedroom during a renovation, we look for the least disruptive avenues. On a second story, we may suggest reducing the size of an adjoining room or hallway to carve our space for a bath. We also want to keep plumbing changes to a minimum, so we'll consider where existing plumbing is already located, such as above a kitchen or first-floor bath.
A master bath doesn't need to be especially large to feel luxurious. The one above, in a home we designed, is on the small side, yet it includes dual vanities, a walk-in shower, and a soaking tub. The bathroom below also has an upscale, spa-like feel. We designed this for clients about to retire, so we took a proactive approach to aging in place and included a walk-in tub.


Options for Upgrading
Beyond a private bath, there are many options that can greatly increase the sense of privacy, and an indulgent feel, in a master suite, such as…


Outdoor Space
In both of the homes above, we included outdoor living space with the master suite. When the master is located on the first floor (on left), this can be as simple as replacing a couple of windows with glass doors. For a second-story master, adding rooftop deck (on right) is a great option.

A Walk-In Closet
Looking for an option that is certain to "spark joy"? A walk-in closet, like this one in a home we designed, will do it every time.

A Sitting Area
If space permits, a private sitting area is a great option. Whether an alcove off to one side, such as this one in the same master suite as the walk-in closet, or an adjacent room, a place to call your own when you have guests is the perfect add-on.
For those who frequently work from home, a private office off the master is another smart choice.
Ready to get started on your own master suite? Please contact us to arrange a consultation.
*Benjamin Franklin actually said, "In this world nothing can be said to be certain, except death and taxes."
---