In the Kitchen with ERT Architects
"We owe much to the fruitful meditation of our sages, but a sane view of life is, after all, elaborated mainly in the kitchen." ― Joseph Conrad
While "The kitchen is the heart of the home" sounds like a trite quote your great-grandmother would have inscribed in crewel for a wall hanging 75 years ago, it turns out that Granny was onto something.
Back in granny's day, the kitchen was small and utilitarian, and intentionally removed from the rest of the home. According to a story on Ranker.com, it is now the room where people spend most of their time. But you already knew that.
A story on HGTV.com places both a major kitchen remodel and a minor renovation on its list of home improvement projects with the highest return on investment when you go to sell your home.
So whether you're staying put for the next 50 years, or thinking of listing your home for sale, a kitchen renovation is one of the best ways to maximize your remodeling budget.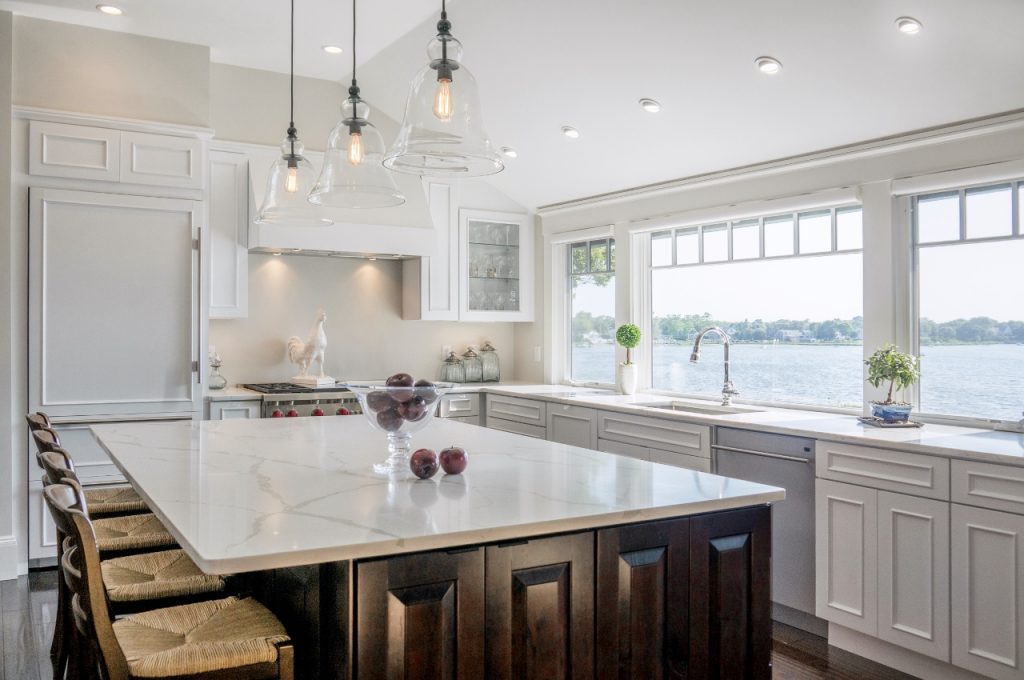 A minor kitchen renovation would typically leave the existing layout in place and swap out the cosmetic elements. This is certainly the more budget-friendly option and, if you're generally happy with the size of your kitchen, the window and door placement, and the flow between the kitchen and adjacent rooms, a minor renovation may be all you need. With new flooring, appliances, countertops, cabinet hardware and perhaps a tile backsplash, you can get a big bang for your buck with a minor reno.
With a fairly hefty price tag, new cabinetry skirts the line between minor and major. Can you live with getting your cabinets painted? Or would just new doors work? If not, there are very good "stock" (meaning not custom made) options now available that are a massive improvement over "builder grade" (meaning very low end).
Macro and Micro Kitchen Additions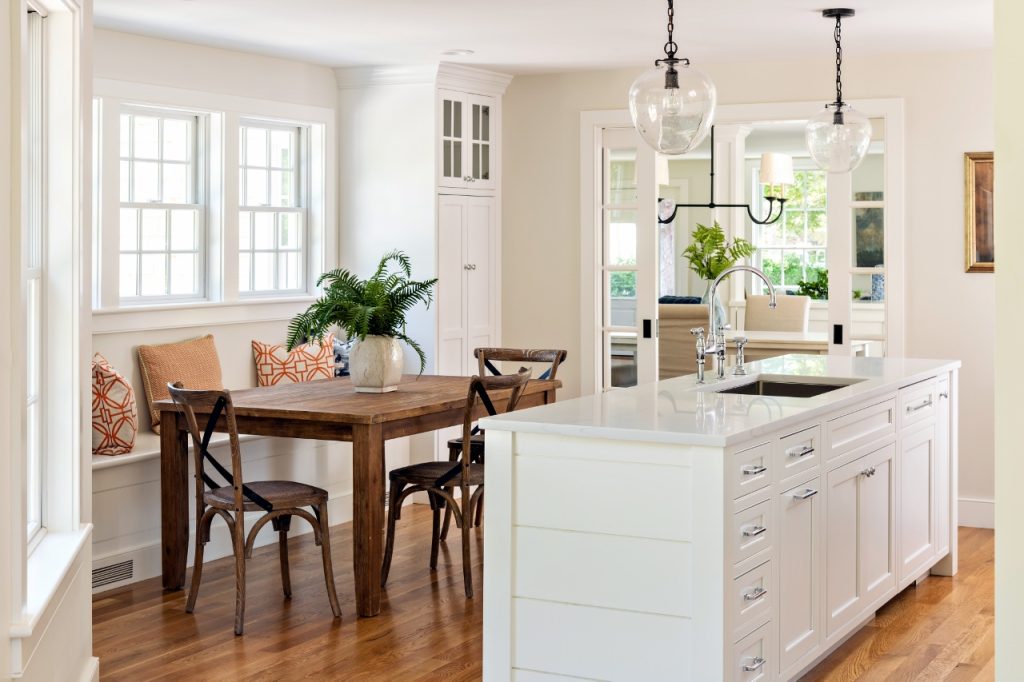 A major remodel allows you to change virtually everything. In the home above, we removed a wall between the kitchen and living room, and enlarged the space by borrowing a few square feet from an adjoining room. Our design also added a wall of windows to take advantage of the view. Everything in the kitchen is brand new.
When it comes to designing home additions, creating a first-floor master suite and expanding the size of the kitchen are by far the most frequent requests from our clients. Summers on the Cape are all about entertaining, and people want their kitchen to work not only for preparing food that wows, but also to spend time with their guests as they're cooking. Oversized and wide open are where it's at. If your lot is large enough to fulfill zoning regulations, a macro addition can be as large as you'd like; doubling, or even tripling, the size of your kitchen. Including the overall space of your existing kitchen within the new addition, rather than completely relocating it, allows water and gas lines that are already in place to be utilized, which can control costs and reduce zoning concerns.
If a full addition isn't feasible, a micro – or "bump-out" – addition can yield big results. In the kitchen above, part of the historic restoration project we talked about last month, a small bump-out addition provided just enough space for a banquette. Hello, eat-in kitchen.
Where to Splurge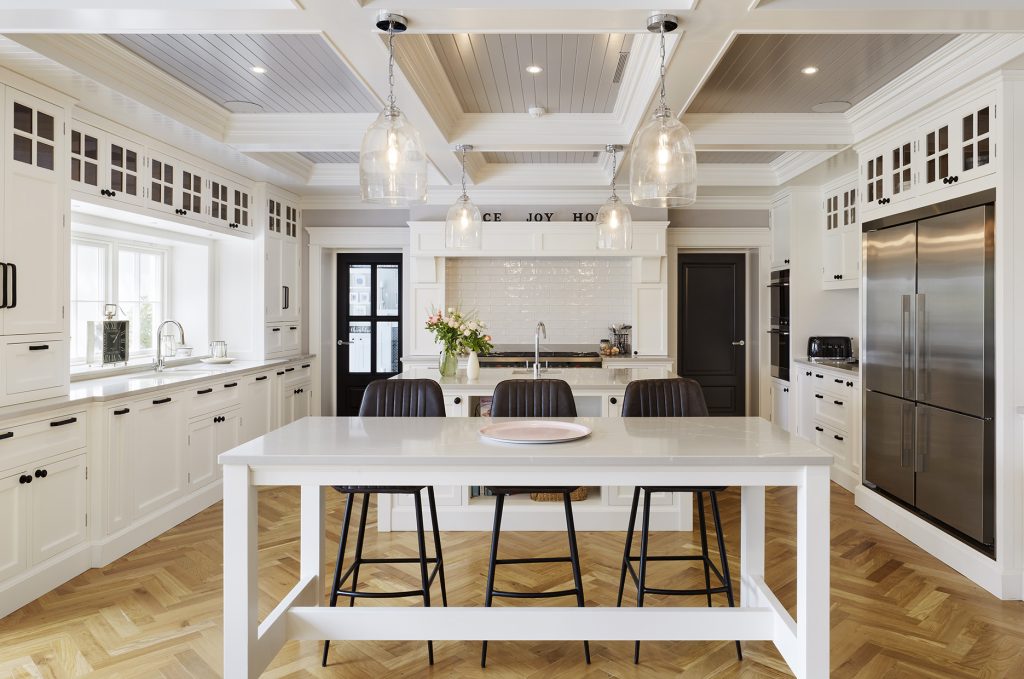 When remodeling your kitchen, deciding which elements are splurge-worthy and where you might try and reduce costs is part personal preference and part common sense. Much like with wardrobe choices, you're more likely to splurge on a cashmere coat you will have for years than you are on a trendy shirt or pair of shoes.
If there is a chance you will be selling your home within the next few years, opting for materials and products with widespread appeal also comes into play, as does the overall value of your home.
Cabinetry: As we mentioned above, cabinetry is typically the single largest expenditure in a kitchen renovation. Choose something classic (avoid overly ornate doors; you may tire of them) and devote as much budget as you can to this element. Even if your home is in the mid-range, quality cabinets will be something future buyers appreciate. At the high end, go with custom. On the lower end, a good stock or semi-custom will last for decades.
Countertops: The counters are one of the most visually prevalent items in the kitchen. A good one will last decades, and they're difficult to replace, so splurge as much as possible on yours. A natural material is best, and is far more durable and appealing than laminates. Important to consider are the maintenance requirements of various materials. Granite stands up to stains, as does quartzite. Because it is prone to staining and burns, marble is requires more upkeep. If you love to cook, best to avoid it. Whichever you choose, opt for something in a neutral hue that isn't too visually busy.
Appliances: Splurge or save? We say split the difference. Unless you are an avid cook who frequently hosts large gatherings, you probably don't need an eight-burner Wolf range with four ovens. A six-burner with two ovens should fit your needs. If your home is high-end overall, and in a pricey neighborhood, future buyers will expect chef-grade appliances, but eight burners is a bit much. Dual Sub-Zero refrigerators, such as in the kitchen above in a home we designed? This also comes down to how much you entertain, and the size of your family. Regardless of where your home's price range is in a potential sale, buyers will appreciate stainless appliances of good quality; exceptional quality is a personal call.
Ideal Islands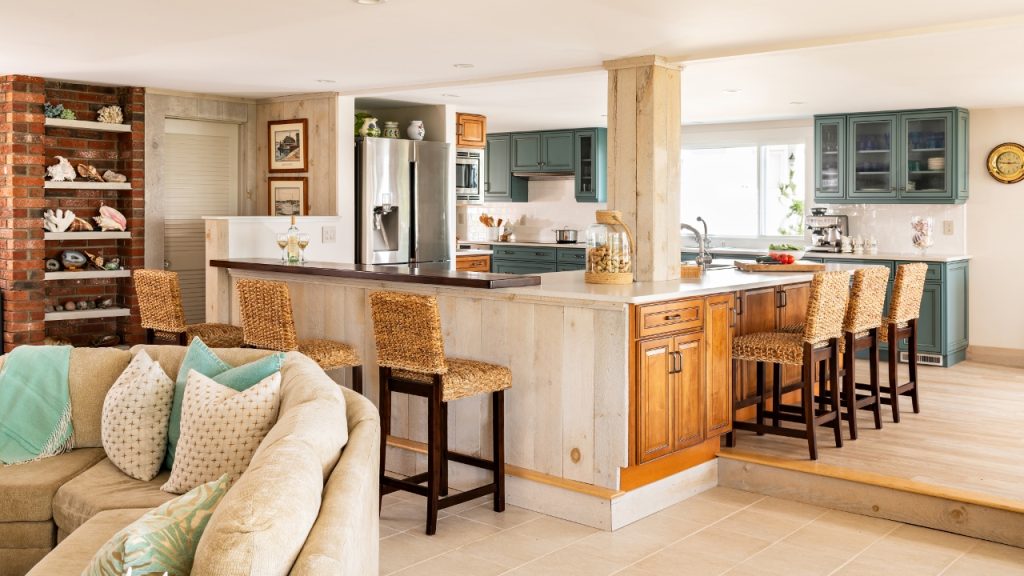 Often set literally in the middle of the room, a kitchen's island is an extremely important element. When designing a kitchen, we consider its form and function, as well as where it's located.
Virtually every island provides counter space and storage. Most offer seating as well. When it comes to "form," think about how your island can complement the look of the space overall. A contrasting color, or natural wood tone, on the base can add warmth to the room. The same is true of the counter. Going with a complementary color, perhaps in a more saturated hue than the perimeter counters, adds warmth and can create a sense of balance.
On the "function" end of the equation, added features, such as electrical outlets, a sink or cooktop, and a built-in microwave or wine chiller are great options.
With open kitchens, like those shown above and below, the island also works to visually define the kitchen. In the kitchen above, part of large home addition we designed, the island bridges the two levels between the new space and the existing portion of the home. Below, the oversized island clearly marks the kitchen "zone" within a large open room that includes the living room and a dining area. A trio of large pendant lights overhead further strengthens the visual line.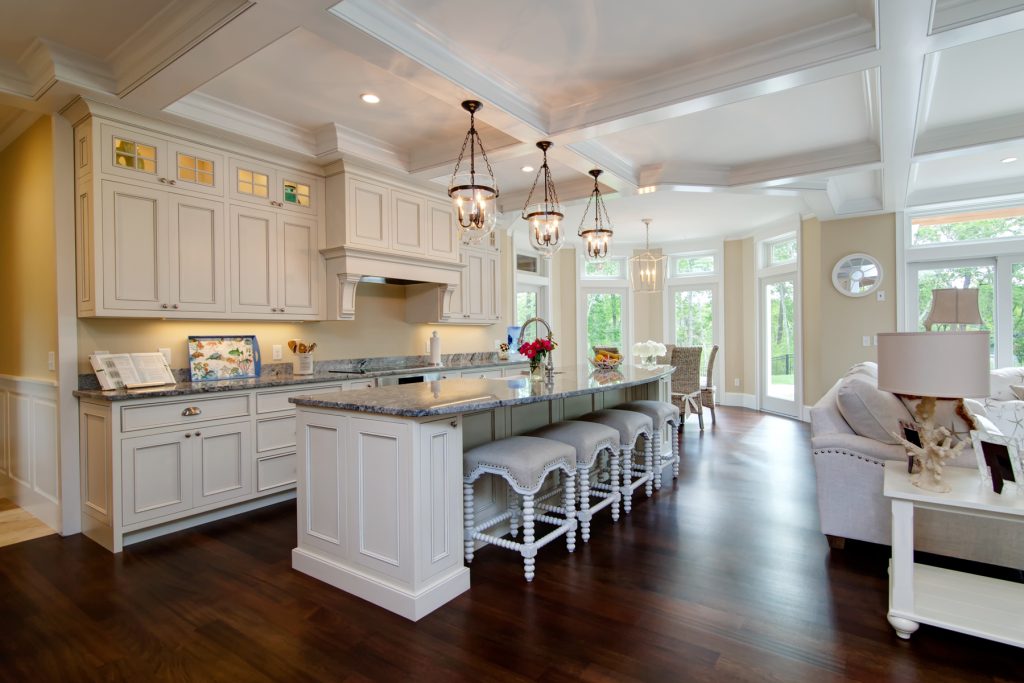 ---